Testimonial
"Caroline was an absolute pleasure to deal with from the moment we first spoke, to the end of our ceremony.  She had us well prepared for the ceremony in advance of our big day - so the ceremony itself ran seamlessly.  She put the wedding party and guests at ease, and all our guests mentioned that it was one of the most enjoyable ceremonies that they had been to. We definitely couldn't recommend Caroline highly enough - she's a true professional!
Testimonial
"We were so happy to get her doing our wedding ceremony at the Fota House.  The preparations were so much fun as she guides you and coaches you through the ceremony with different options to make this day so special.  You feel that she really likes what she is doing.  All the guests at the wedding loved her.. .she is funny and entertaining but with the required seriousness and professionalism. Thanks again that you made our day so special and react so fast to the unforeseen things that happened, so professionell!
We wish you all the best and lots of nice ceremonies."
Testimonial
"Caroline is amazing! She helped us time and again with everything, we were so lucky to have her!
Her ceremony was beautiful and light hearted, ourselves and all our guests were raving about it!
Couldn't recommend her enough!!"
Testimonial
"From the moment we met Caroline at a wedding showcase, we knew she was "the one" to marry us. And Caroline did not let us down.  Her guidance, experience, knowledge, and brilliant humor had us at ease throughout the whole ceremony.  Caroline set the tone for an absolutely fabulous day. She was able to accommodate us through COVID cancellations, continually contacting us for guidance and inspiration with her wonderful ideas for our ceremony. The attention to detail is amazing from the tying the knot ritual, preparing the readings and the personalization of our ceremony candles. We could not recommend Caroline highly enough to anyone looking for a celebrant to make their day as wonderful as Caroline helped to make ours. Thank you so much Caroline, from Elaine & Gordon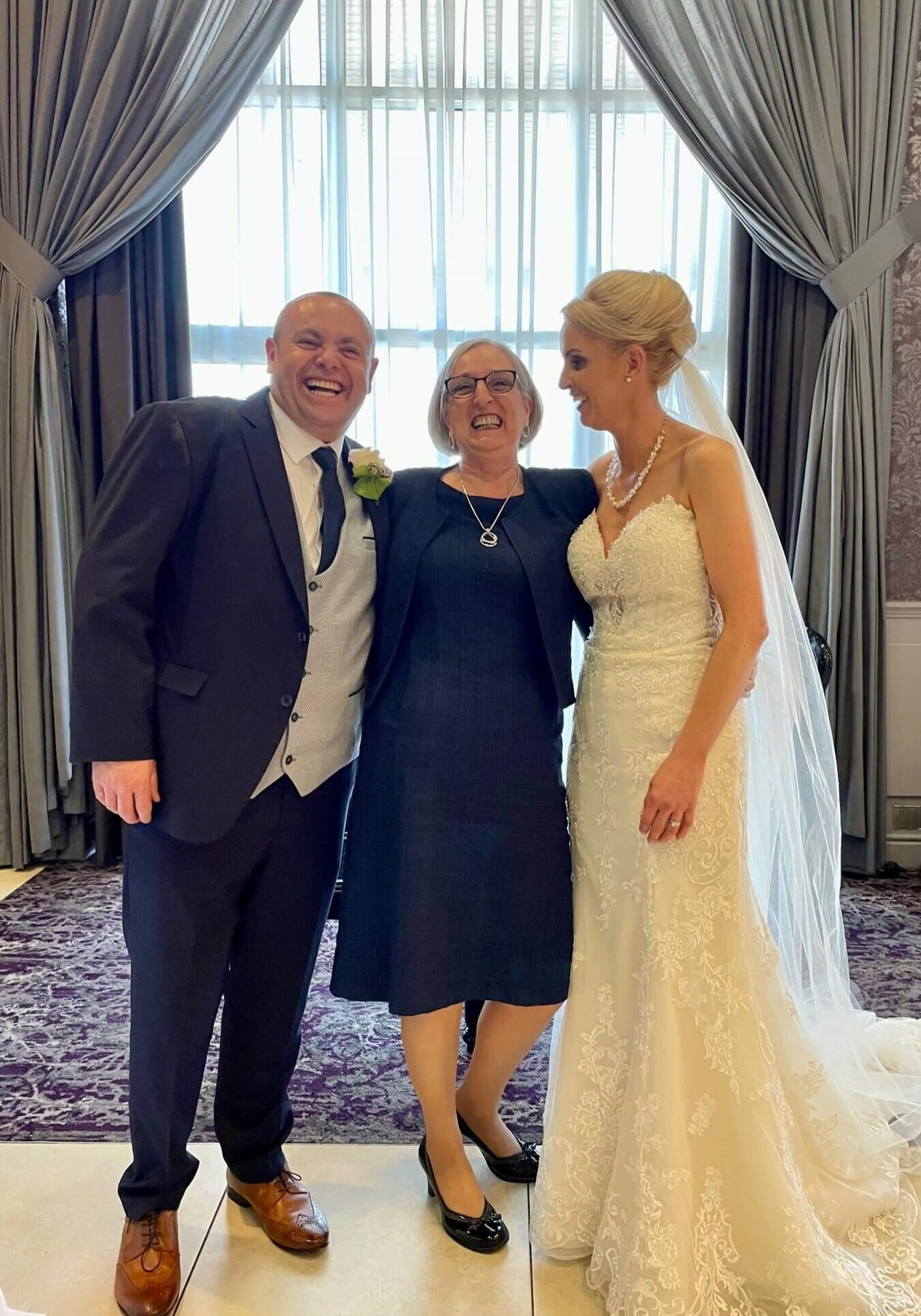 Testimonial
"Caroline was absolutely fantastic to work with. We arranged a meeting online prior to the ceremony and went over everything with us. She was flexible and accommodating. She met us both separately in the morning to discuss the finer details of who was to stand where etc. She was extremely well prepared and had a good sense of who were. She created such a happy, positive, light hearted atmosphere during the ceremony just as we wanted and many of our guests commenting afterwards on how enjoyable it was and how warm Caroline came across on the day. I would have no hesitation in recommending Caroline. She was nothing but brilliant!"
Testimonial
"What can I say - Caroline was so understanding from the start, I knew she was only a phone call away.
Two days before our wedding I was onto her about being nervous talking in front of people and she said on the phone, just repeat after me,  and I did and on the day she made us feel so comfortable.
Caroline is amazing at what she does, laid back, and it made us feel so comfortable to be honest, as I was nervous on the run up to the wedding as my boy has autism, and says what he thinks aloud, no filter, but in fairness Caroline continued on and made him feel included which made it for us.
I would highly reccomend Caroline, she's so kind and nothing is a problem."
Testimonial
"After meeting a few different celebrants over zoom we finally met the perfect one! Caroline was in a league of her own in comparison to the other celebrants we spoke to. The moment I spoke to her I felt completely at ease about our ceremony, all my worries and concerns flew out the window.  Caroline talked us through the whole ceremony and covered every little detail (Caroline even taught us how to walk down the aisle!)  She was so easy to talk to and approach and also always easy to contact which was incredibly important.  Caroline is not only a lovely woman but a perfectionist at her job.  She made sure we had everything we wanted included in our ceremony and helped us to really make it our own personal ceremony.  I have been to weddings where the ceremony is obviously copied and pasted for one couple to the next.  This is not the case with Caroline, she is just amazing.  Everyone at our wedding absolutely adored the ceremony and thought she was just so natural and perfect on the day with a bit of humour thrown in, which helped with the nerves!  Thank you so much Caroline. You are Amazing and we are so grateful that you were part of our special day.  We highly recommend Caroline! I wish I could give her 10 stars not 5!"
Happy to travel within Ireland
+353 (0)87 352 1588
caroline@yourcelebrant.ie